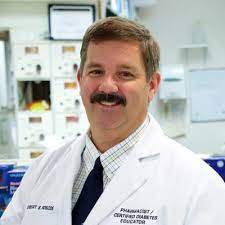 Mr. Robert Roscoe
Robert Roscoe, BSc. Pharm, ACRP, CDE, CPT, Pharmacist and Certified Diabetes Educator
A graduate from Dalhousie University, Mr. Roscoe completed his Hospital Pharmacy Residency at Saint John Regional Hospital and worked in various hospitals in the New Brunswick region before finding his place in community pharmacy. Currently working as an Independent community Pharmacist out of Rothesay New Brunswick, a CDE (Certified Diabetes Educator), CPT (Certified Insulin Pump Trainer) and has passed the Certification in Insulin Adjustment exam. He now provides collaborative diabetes clinics within family practioners offices seeing individual patients as part of his innovative practice. Since obtaining his CDE, he has been involved in many diabetes initiatives, promoting the role of pharmacists and the part they play in patient care and diabetes management. Including the NB Heart Centre working with patients with heart disease and NO family MD in better managing their Diabetes and CV risk  Mr. Roscoe has a long list of accomplishments in the field.
One of the co-authors/expert committee members of the 2013 CDA Clinical Practice Guidelines and the DC (Diabetes Canada) 2018 Guidelines.
He is on the Board of Directors of the Canadian Diabetes Educator Certification Board,
He is one of the founding board members and an author of the Forum for Injection Technique in Canada (FIT) Including the 4th version released Nov 2020
He is a member of the Diabetes Task Force reporting to the Ministry of Health in New Brunswick
He has represented the pharmacist's role in a patient's diabetes care team for a Discovery Channel special
Recently Published in International Journal of Diabetes as one of the writing team for article "Insulin Matters: A Practical Approach to Basal Insulin Management in Type 2 Diabetes. 2018
He also is the lead author in a number of accredited CME (Continuing Medical Education) programs including:"

" The Pharmacist's Role in Injectable Diabetes Therapy"
"Recognizing and Managing Painful Diabetic Peripheral Neuropathy: a Pharmacy Case."
" Injection Techniques for Pharmacists (Adaptation of the FIT Recommendations for the profession of Pharmacy)
Mr. Roscoe is found often presenting to fellow professional colleagues and patients locally as well as nationally. He is also very active in developing Accredited as well as non-accredited educational programs around Diabetes Management and Self-Management.  He is active on scientific committees and on advisory panels/board as he has the triple perspective of the primary care provider, a Certified Diabetes Educator (CDE), as well as the community pharmacist role to play in Chronic disease Management. He is often heard in his presentations to say "From My Side of the Counter …" always looking at patient care from the pharmacists stand point, then working collaboratively to improve outcomes from both the patient and prescribers aspect. Rob regularly starts and adjusts and reviews patients on injectable therapies including insulin and GLP-1's, as well as "fine tunes" the use of oral hypoglycemic agents. He is now invited into Family MD offices across the province to meet with their patients with diabetes to review their management and make appropriate changes.
Mr. Roscoe has received recognition for his work: the Atlantic Regions "Outstanding Health Professional Award" from the Canadian Diabetes Association. In addition, he was awarded Takeda Magnum Opus Award 2013″ which recognizes a pharmacist who has obtained advanced training AND is putting that training to use in his daily practice. In 2009, the Canadian Pharmacists Association named him as one of Canada's "Diabetes Champions for Canadian Pharmacists", a role he still recognized for and keeps to this date.
.